Rise Broadband Internet Las Vegas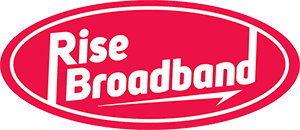 Rise Broadband Internet Service:
Prices starting at $25/mo
Speeds up to 50mbps
Rise Broadband Internet Service
Best Rise Broadband Deals Right Now
Rise Broadband is offering 50 percent off installation ($75 value) for all new customers who subscribe to Rise Broadband's 25 Mbps, 50 Mbps, or 50 Mbps unlimited plans. Standard installation without this offer will cost up to $150. Here's what else you can expect with Rise Broadband as a part of this deal:
Contract-free service — no term agreement required
Unlimited data purchase option (just $20 per month)
Speeds between 25 Mbps and 50 Mbps, depending on the plan you choose
Rise Broadband Internet-Only Deals
For a limited time, Rise Broadband is offering special pricing on its 25 Mbps and 50 Mbps plans. When you enroll in AutoPay, you can get up to 25 Mbps download speed for $25 per month for 12 months. For up to 50 Mbps download speed, you'll pay $39.95 per month for one year.
It's also important to mention a few additional benefits of getting your internet through Rise Broadband. For an extra $5 per month, you can get Managed Wi-Fi, which allows you to set up your local network and even set parental controls on your router via the smartphone app. The next level is Premium Wi-Fi for $10 per month, which offers all of the same benefits, but with two Deco M4 wireless routers to provide an even wider coverage area.
For an extra $15 per month, you can get Premium Mesh, which provides three wireless Deco M4 wireless routers to create a seamless, whole-home mesh network. This service can cut down on dead zones and generally increases speeds across your entire home network.
Rise Broadband Internet Discounts
Rise Broadband offers three primary discount options for qualifying individuals and families:
Military discount: Qualifying military personnel may receive 10 percent off their monthly bill. To learn more about this discount, contact Rise Broadband customer support for more information about this discount.
Lifeline: The second Rise Broadband discount, Lifeline, is a government-sponsored program to provide low-income families with discounted internet and phone services. You can apply for Lifeline whether you're an existing Rise customer or you wish to sign up for a plan in the future.
Affordable Connectivity Program: Through participation in the federal-sponsored ACP, qualifying low-income households can receive $30 off their monthly internet bill ($75 for households on tribal lands).
How to Get the Best Deal With Rise Broadband Internet
Here are a few ways you can save money on your Rise Broadband plan.
Commit to a long-term plan: The best way to keep your premium low is to sign up for a promotional, long-term plan (two years or more). Of course, only make this commitment if you're able to stay in one area for an extended period.
Participate in an installation promotion: Fixed wireless connections require professional installation, so there's no way to avoid the one-time $75 to $150 installation fee unless you sign up during an installation promotional offer.
Bring your own modem: If you sign up for a plan that includes the $10.99 per month modem rental fee, you can eliminate this recurring cost by purchasing your own compatible modem or modem-router combo.
Frequently Asked Questions About Rise Broadband Internet
How much does Rise Broadband cost?
Rise Broadband's fixed wireless internet prices start at $25 per month for download speeds up to 25 Mbps.
How fast is Rise Broadband internet?
The fastest connection from Rise Broadband is the 50 Mbps Internet plan, which gives you download speeds up to 50 Mbps for $45 per month. The second-fastest plan Rise Broadband offers is the 25 Mbps Internet plan, which comes with download speeds up to 25 Mbps for just $25 per month.
What kind of internet is Rise Broadband?
Rise Broadband is a fixed wireless internet provider that transmits data between a local transmission tower and a receiver dish installed on your home. Rise Broadband is also starting to offer fiber internet services in the Texas cities of East Bernard, Ferris, and Wallis, as well as Maroa in Illinois.
What is the most popular Rise Broadband internet plan?
Rise Broadband's most popular plan is the 50 Mbps Internet plan, featuring download speeds up to 50 Mbps for $45 per month.